Meet new Crypto Package and more discounts on all our licenses

Every day we are working on improving the platform and developing new functionality. And when we receive feedback from our users, we understand that we are moving in the right direction.
Today we are pleased to present you three great changes in our prices:
First of all, we've redesigned the pricing page and simplified the selection process of necessary licenses. Let us know your thoughts about our new pricing page in comments. 
We have increased discounts for all licenses for 3 months or more. Hence, buying a license for one year, you can save 30% of the monthly cost. When you buy a license for six months, you'll get a 20% discount.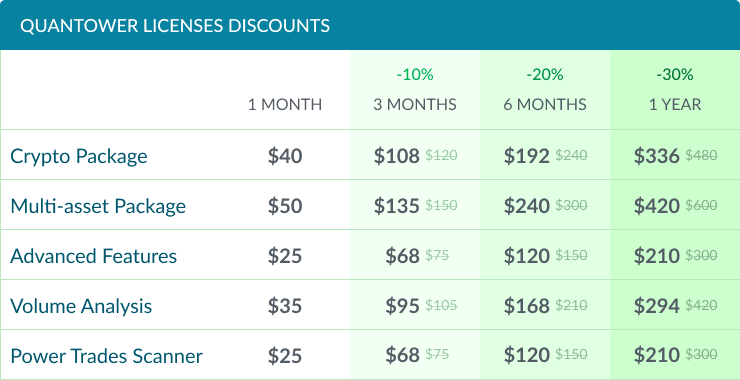 As well you can buy a Lifetime license for any package or functionality. Please contact us at our support live chat or Telegram channel and we will provide you the right set of features at a reasonable price.
Another important change that we have added to our existing licenses is the packages. This is a combination of multiple licenses in one entity, which saves you money on a subscription. Currently, there are available two packages — Crypto Package, Multi-Asset Package. They are divided by the available types of assets, include volume analysis tools and other advanced features. Save more by buying any of the available packages.
Added new license type — Crypto Package. It includes multi-connection for all crypto exchanges available in the platform, Volume Analysis Tools, Volume Impact Indicator, and Order Flow Surface panel. Thus, buying this package, you get a ready-made set with the necessary functionality for trading in the crypto market.
The first 5 Lifetime licenses on Crypto Package are available for $499. To buy a license, just contact our support. Hurry up! The offer is limited by the number of licenses. If you'd like the lifetime on other packages, please contact our support.
Comments