Fall Digest 2021

Hello again, friends! Over the past months, we've added many of your favorite features to the Quantower Terminal, including Trade Copy Panel and Market Screener Panel, Crypto,com Integration, Bitfinex Trading, Added Implicit/Outgoing Order Book for DOM Trader, Bid/Ask Depth Indicator, Kaufman Adaptive Moving Average indicator, Hull Moving Average indicator, visual changes of the Ruler tool on the chart, natural logarithm for synthetic symbols, and also the "R square" function for the Stat Matrix. In our fall digest, let's find out all the details of the above improvements for the Quantower terminal.
New Copy Trading panel
The Copy Trading panel allows you to fully duplicate trading activity between multiple accounts of the same connection. This panel will automatically copy all trades from the main account into the specified management account(s) once you have created and launched a particular algorithm (Bot).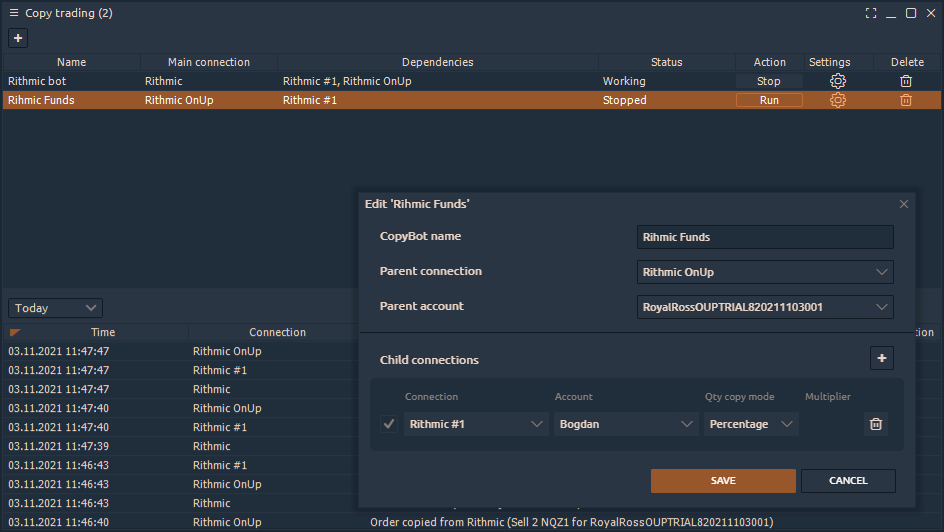 Currently, the platform supports copy-trading for the following connections only: FTX, Binance, Binance Futures, Bitfinex, Rithmic, Bybit, BitMEX, and Interactive Brokers. For more details about creating a copy-trading bot and how to use this panel for managing multiple accounts, please watch the Copy Trading video guide or read our Copy Trading manual. Please note that the Copy Trading panel works only when the platform is running, the Bot includes all active connections and is in Working status.
New Quantower Screener panel
Quantower introduces a new analytical panel called Screener that is based on the dxFeed scanning engine and allows you to quickly find the stocks and ETFs you need by given criteria. Thanks to this, the panel will literally narrow the list of stocks for further analysis and select into your portfolio. For example, the Screener with basic parameters can reduce the list of the largest-cap stocks. More advanced settings will allow you to display a list of instruments by trading volume, price changes, technical indicators and listing on a particular exchange.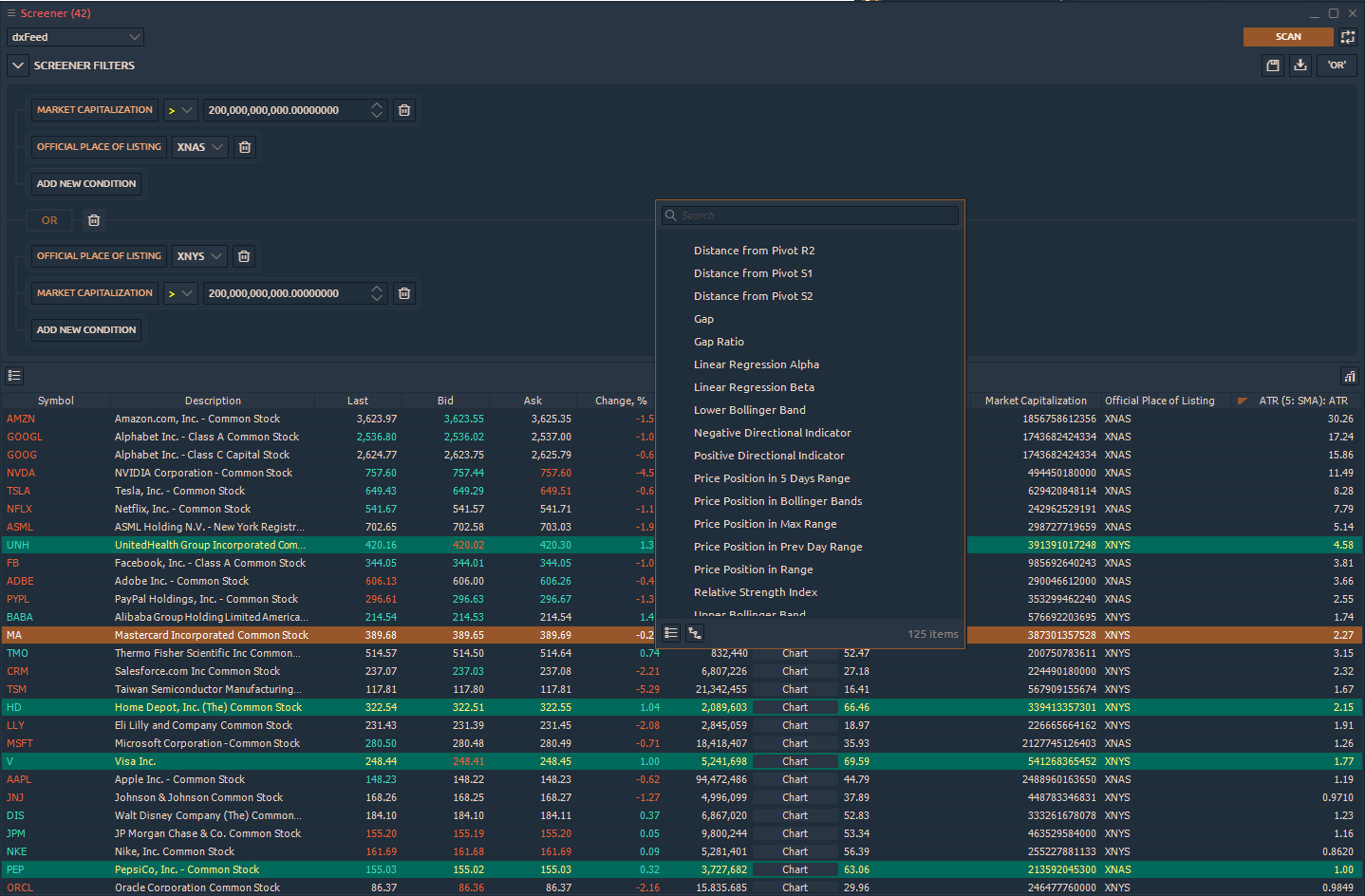 At the moment, the Screener is working with the dxFeed Scanner subscription, which provides access to the values, calculated on the symbols that are listed on the major US exchanges - Nasdaq, NYSE, ARCA and others. Read the detailed information on the dxFeed Scanner subscription.
Crypto.com integration
We are proud to announce a complete integration of the Quantower platform and crypto,com for trading and data analysis. Crypto,com provides deep liquidity, competitive trading fees, institution-grade security, and supports many major cryptocurrencies, including Bitcoin, Ethereum, XRP, Litecoin, EOS, etc.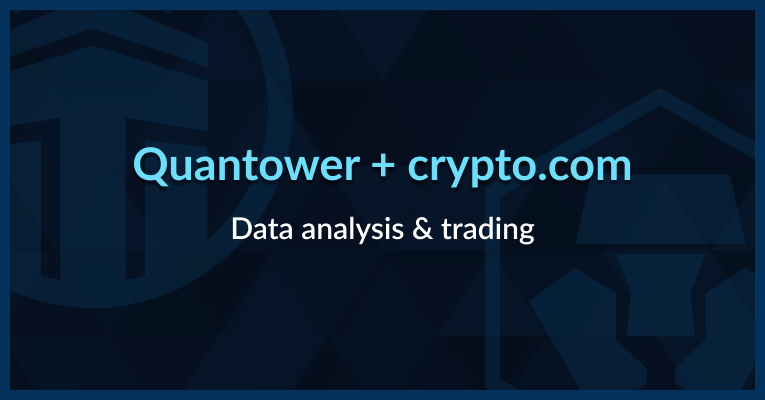 Crypto,com is a payment and cryptocurrency platform that empowers users to buy, sell, and pay with crypto. The platform enables users to control their money, data, and identity. It serves over 10 million customers, with the growing crypto app, along with the Crypto,com Visa Card, a crypto card, the Crypto,com Exchange, and Crypto,com DeFi Wallet. It also offers a powerful alternative to traditional financial services.
Trading on Bitfinex via the Quantower
Bitfinex exchange has been on our data providers list for about three years, providing its crypto-data for analysis and comparison. Today we announce a full-trading integration release for Bitfinex, allowing you to use the full power of the Quantower terminal.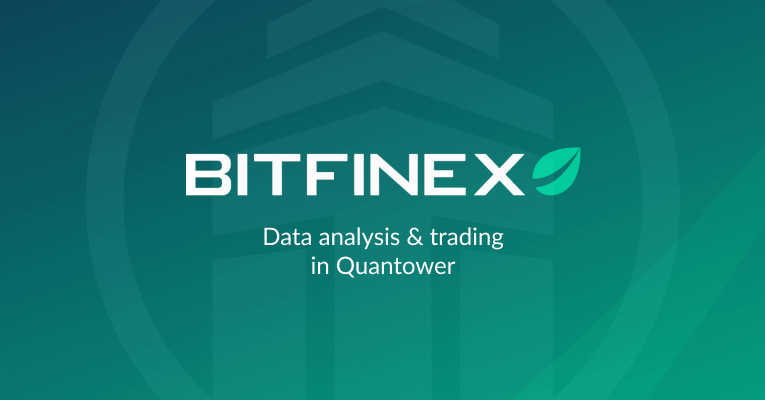 Bitfinex offers order books with top-tier liquidity, allowing users to easily exchange Bitcoin, Ethereum, EOS, Litecoin, Ripple, NEO, and many other digital assets with minimal slippage. Bitfinex also boasts a suite of order types, allows to trade with up to 10x leverage by receiving funding from the peer to peer margin funding platform, and trade Derivative Products on the Derivatives Site.
DOM Trader panel updates
Implicit and Outright (Explicit) order book
A new setting allows you to show or hide important for spread traders Implicit orders (implied book) in the DOM panel. From the other side, for a clear view of the order book (especially for the bonds market), traders can show only Explicit orders (Outright book) without the impact of spread traders.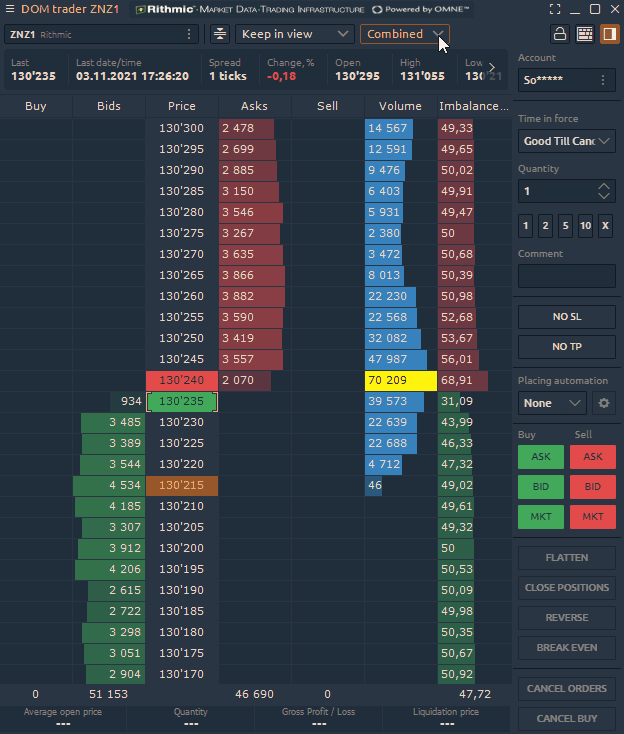 Price markers and styling for "Best Bid" & "Best Ask"
Price markers can indicate levels of your technical indicators, support/resistance levels, or reminders of important price points. You can mark the desired price level by holding the ALT key and clicking on the mouse left-click.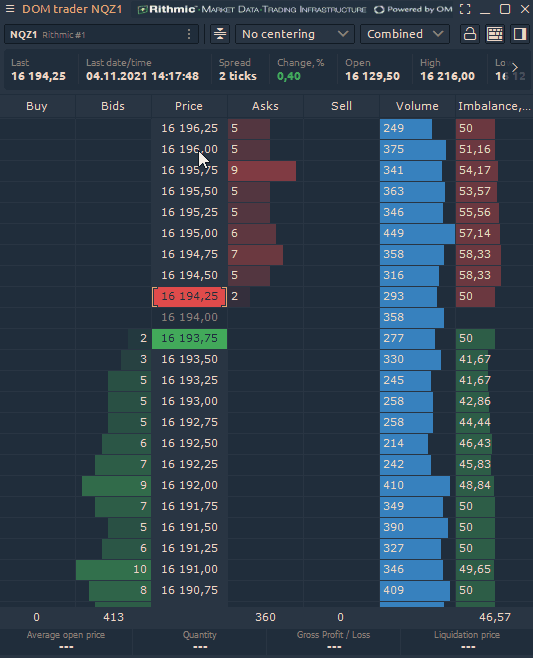 As a part of DOM trader panel improvement, we have Added more visual settings for the price column, especially for Bid/Ask prices: now you can set different colors for them or remove coloring for the clear vision of the Last price.
New indicators
We get a lot of requests from our community to add various indicators to Quantower. The main idea is to provide these indicators as a part of a Basic functionality set, so any trader (free or paid) can benefit from using them.
Depth of Bid/Ask
The first indicator we would like to talk about is a Depth of Bid/Ask. This indicator shows changes in the liquidity for a specified number of Bid/Ask levels. As a result, you will see a line chart displaying the liquidity change peaks that correspond to massive market price movements.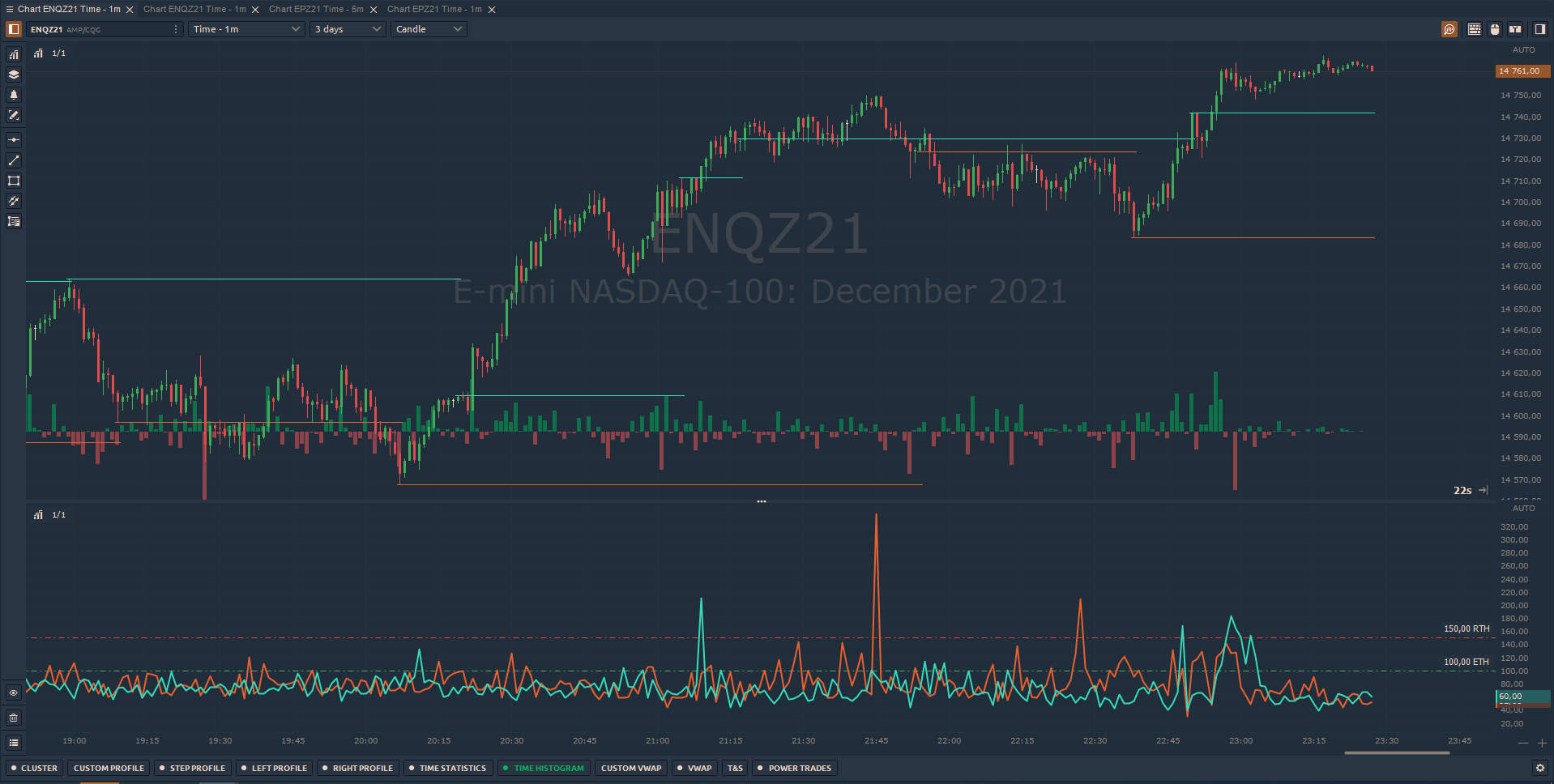 Kaufman's Adaptive Moving Average (KAMA)
Kaufman's Adaptive Moving Average remains near the current market price when market volatility is low, but it will lag when volatility increases. The KAMA indicator aims to filter out "market noise" – insignificant, temporary surges in price action. One of the primary weaknesses of traditional moving averages is that they tend to generate many false signals when used for trading signals. The KAMA indicator seeks to lessen this tendency – generate fewer false signals – by not responding to short-term, insignificant price movements.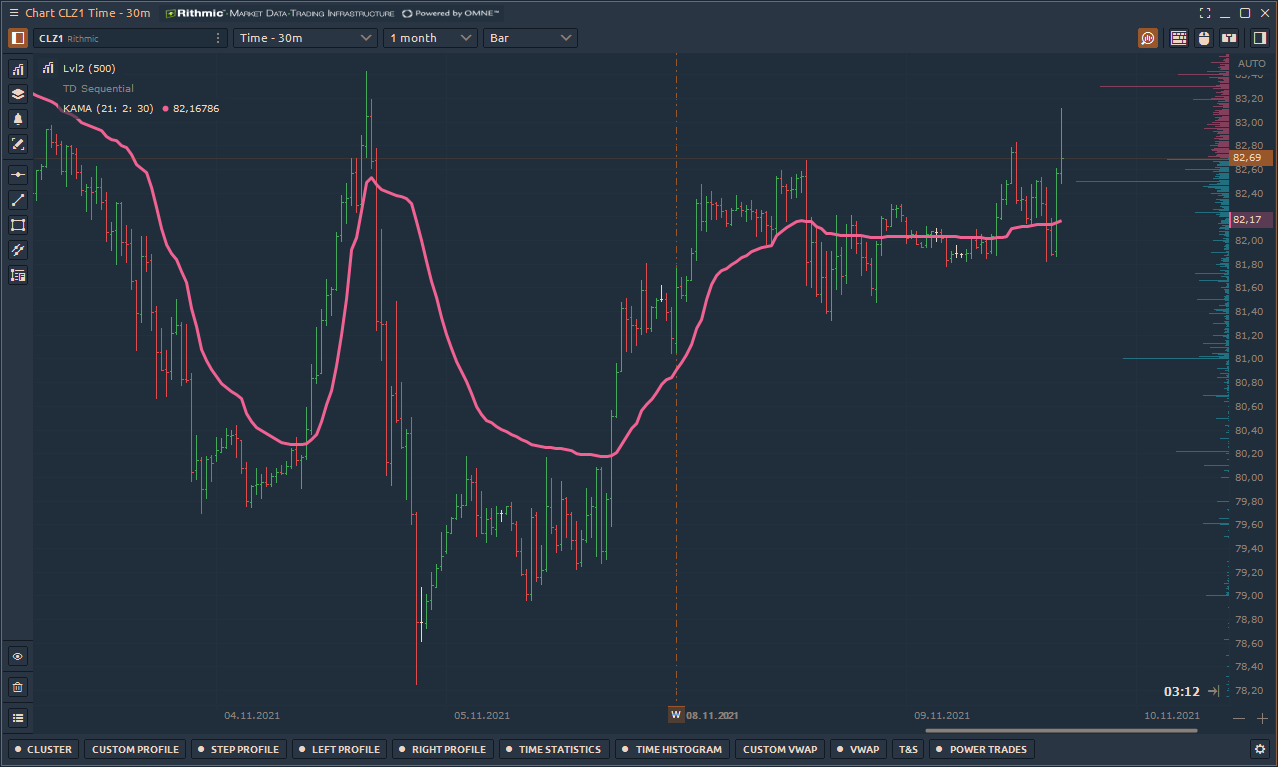 Hull moving average indicator
The Hull Moving Average (HMA) is a directional trend indicator, similar to Exponential Moving Average (EMA) and the Simple Moving Average (SMA). It catches the current state of the market and uses recent price action to determine if conditions are bullish or bearish relative to historical data. Unlike the traditional trend indicators, HMA provides a faster signal on a smoother visual plane.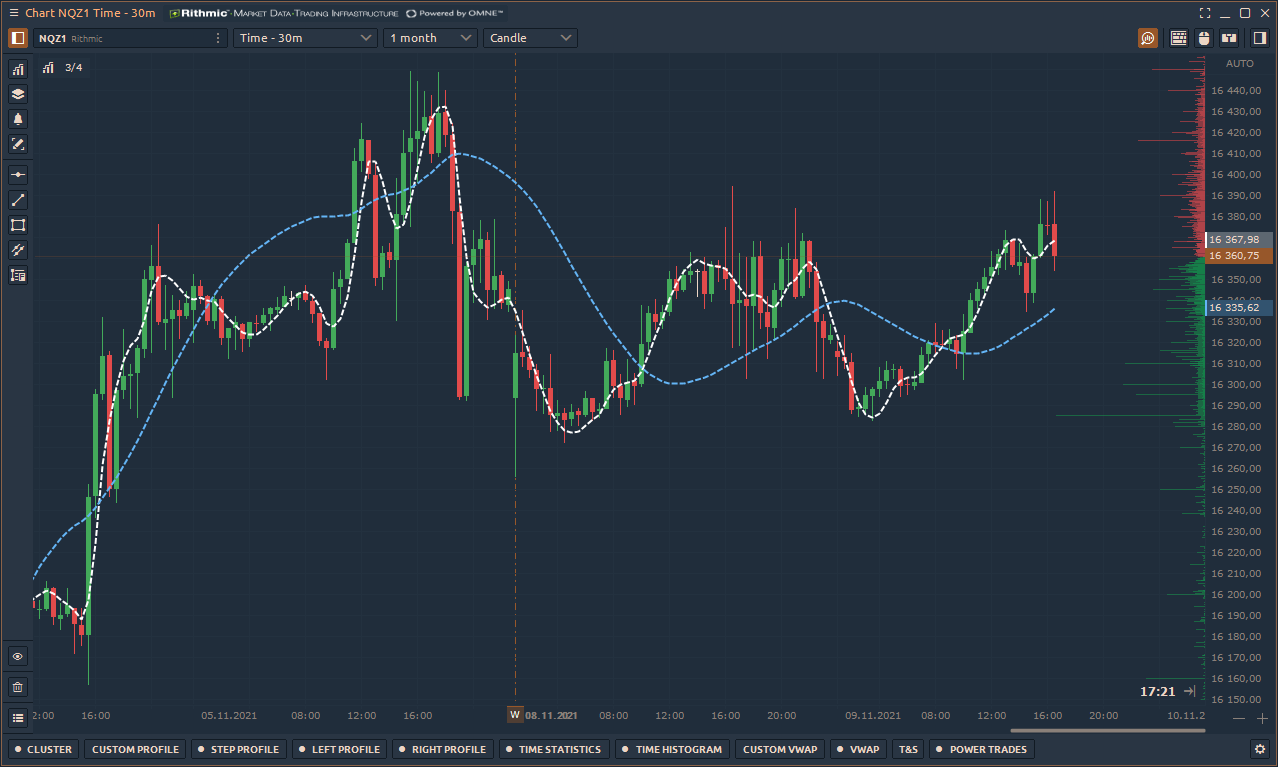 Additional Visual settings for Ruler
Being a handy tool for every chart trader, the Ruler gained a lot of feedback from our community. We have gathered all of the requests and released a set of the Chart Ruler customization options, containing:
line & background styles and coloring
info area fonts, styles, and coloring
info area contents setup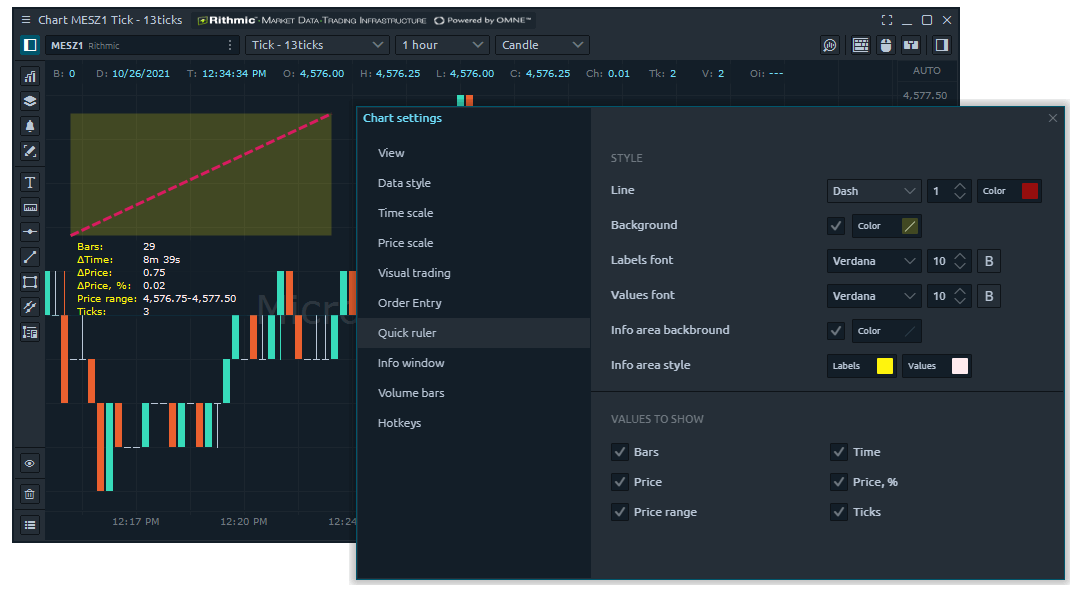 Natural logarithm (Ln) to synthetic symbols
Many of you have been waiting patiently for this feature, and we finally did it — added a natural logarithm (Ln) function to the logic of synthetic symbols construction. This function means that you can build a synthetic symbol chart, displaying the dividing one symbol by another.
Thanks to this function, your chart will be normalized; you will avoid the distortions from absolute prices and switch to relative estimations. From a mathematical perspective, natural logarithm replaces multiplication with addition and division by subtraction.
 You can read more information about Quantower updates on our Release notes page.
Comments