Trading via Order Flow, new Coloring Themes, Indicators to Watchlist

So, this is the first update of 2019, which contains technical and visual improvements of the platform. As many already know, we always take into account the opinions and wishes of our users, especially when improving and updating the platform's functionality. And this release is also no exception :) What's new?
Added indicators, drawings, volume analysis tools and trading functionality to Order Flow Surface
Extended the settings of technical indicators in Watchlist
Added 4 new color schemes - Dark Forest, Dark Autumn, Dark Gold, and Light theme.
Time to next bar on Chart panel
Trading via Order Flow panel
UPDATED: We've released DOM Surface panel for deep Order Flow analysis
The first version of this panel allowed only analyzing the flow of limit orders, their change over time as well as showing their maximum accumulation. After a while, our users asked us to add trading functionality to the panel. But we decided to add a little more to the Order Flow Surface panel:
Chart & mouse trading
Volume Analysis Tools
Indicators & Drawings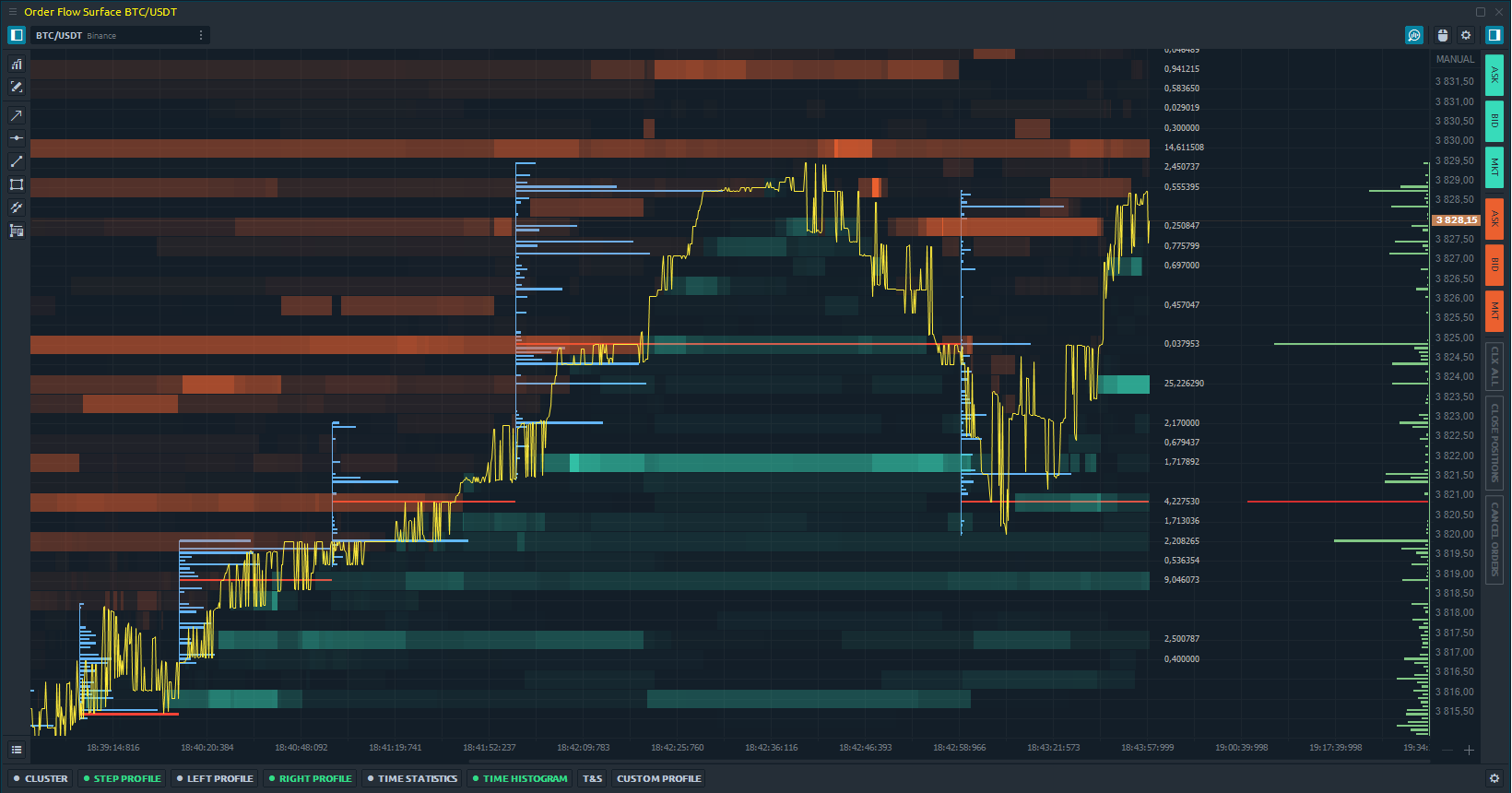 Thus, there is no need to keep the chart panel or order entry panel to send a new order. Launch the Order Flow panel, analyze order book heatmap and send orders in one click. In addition, for comprehensive analysis, add volume profiles to the Order Flow Surface on the left, right side, or set up a Step profile.
Adding Indicators to the Watchlist
The ability to add indicators to the chart is available in almost every trading platform. But what about the indicators in the Watchlist? We thought it would be useful for traders to see the values of indicators on the whole list of instruments without opening dozens of charts. Open the Watchlist panel with the selected symbols, add the necessary indicators and sort the table by indicator values.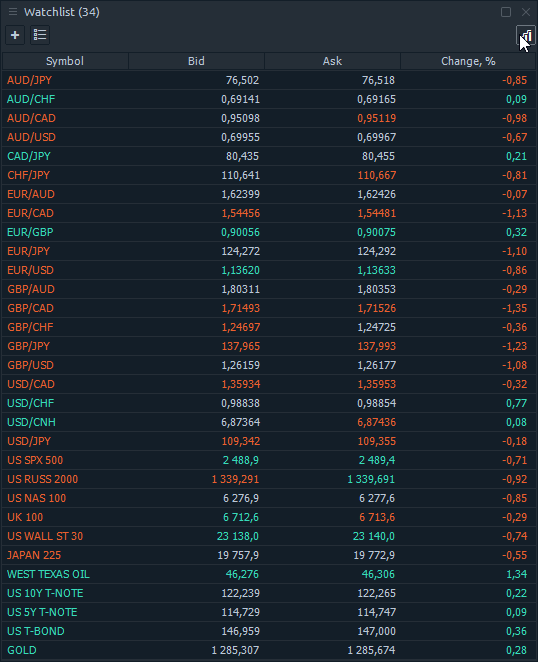 New Coloring Themes
It is important for us that traders work on a modern, reliable and beautiful platform. That's why our designers added more colors and "moods" to the platform in the form of 4 new color themes - Dark Autumn, Dark Forest, Dark Gold, and Light Water theme.
You can change the theme through the main application settings in the General category.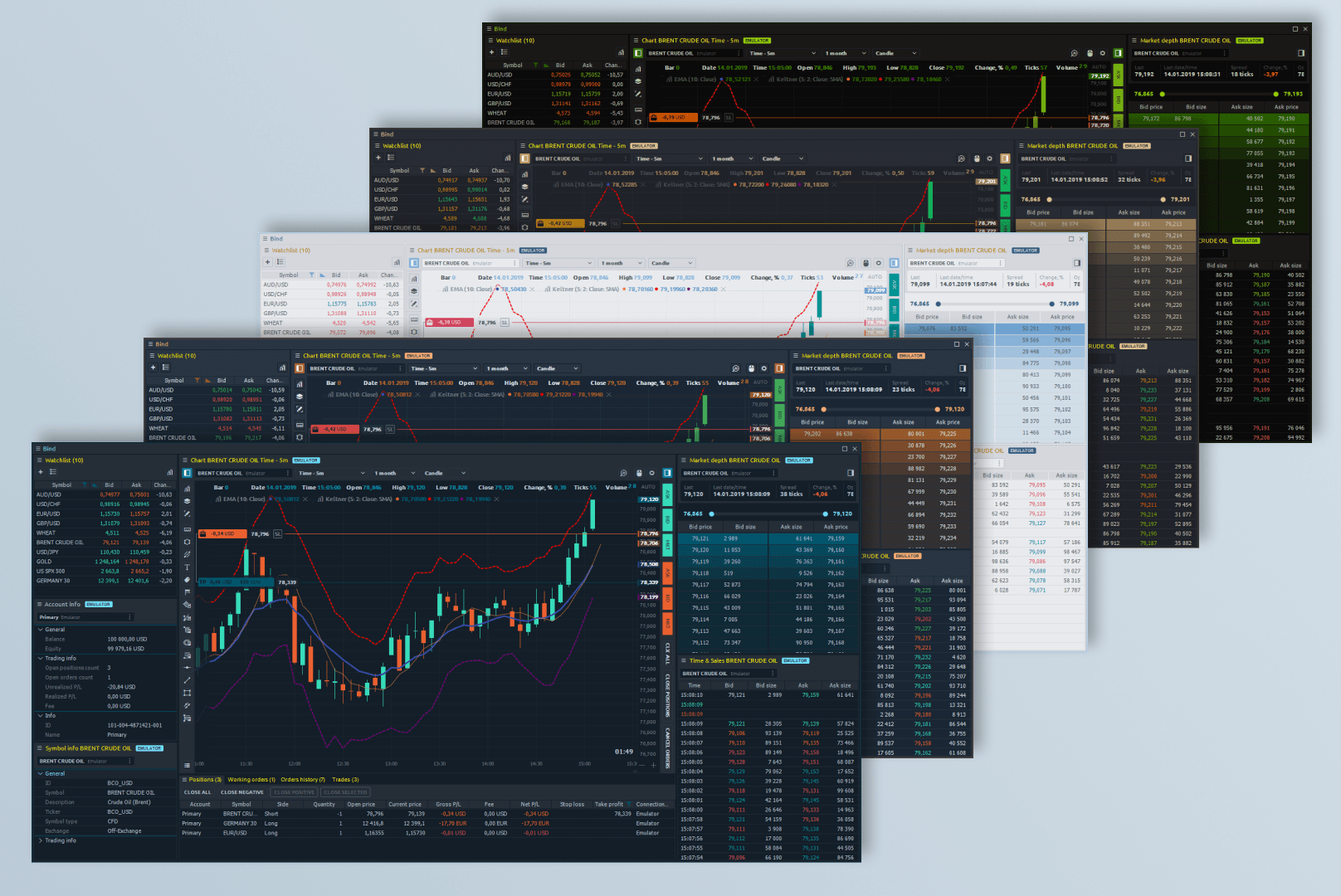 Time to next bar
A small feature, but, as it turned out, very popular among traders. Using the countdown indicator you do not need to calculate the remaining time to the next bar, which is especially important for non-standard time intervals. Activate it through the Chart panel settings and it will appear in the lower right corner of the panel.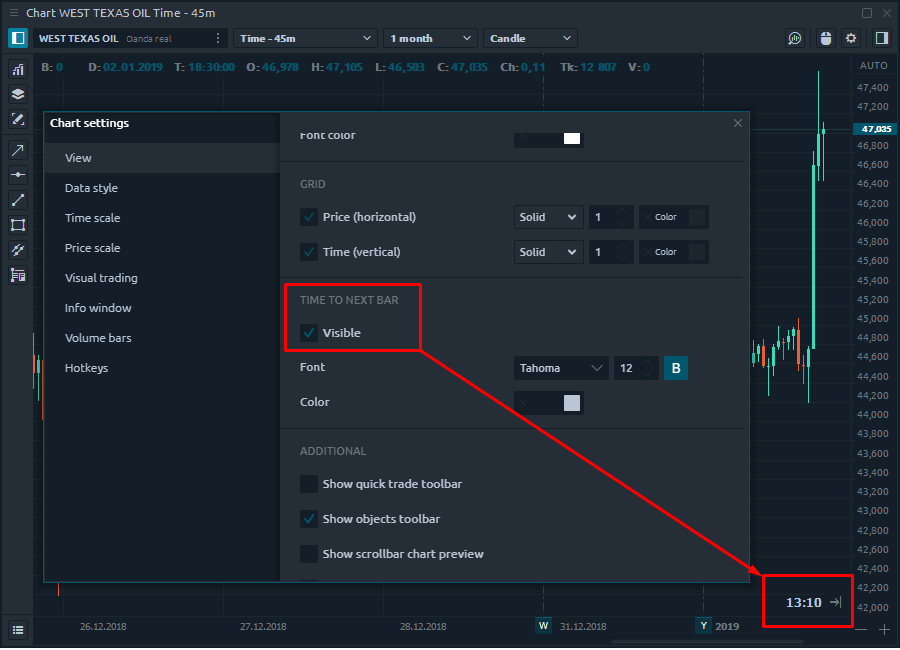 To sum up
As always, we don't mention here less significant but numerous other fixes and micro-improvements, but be sure that they have been deployed, forming a solid foundation for best user experience and the future of the platform's development. If you still have questions about our platform and its functionality, you can visit our documentation section or just contact us in support.
Comments