Quantower provides access to DTN IQFeed market data service

Ukraine, January 24, 2019: Quantower LLC, a developer of professional trading software for retail and institutional traders, announced today that it has connected to DTN IQFeed, a market data service for professional traders, brokers, prop trading firms and software vendors.
High-quality integration, made by Quantower, offers traders to use all the cutting-edge features, technical and analytical tools that are included in the platform. Thanks to this collaboration with IQFeed all users of Quantower platform will receive:
Qualitative exchange data without delay of a huge number of trading instruments;
True tick by tick data – you see every trade and every quote as it happens to the microsecond timestamp
Access almost to all world's stock exchanges;
Deep historical data (Tick-by-tick 30 days back, 1 year of minute bars, 1000 daily bars, 500 weekly bars);
Over 500 market breadth indicators updating every 1 second – TICK, TRIN, etc.
The full usage of volume analysis tools and options analysis in Quantower platform, as well as the whole functionality to work with Level 2 data - Depth of Market and Order Flow Surface.
"We are excited that IQFeed data feed is now available for Quantower traders" - said Alexey Bogdan, the Head of Quantower development and co-founder. "Connection to IQFeed is an important step for expanding market coverage and providing reliable real-time data."
Quantower platform provides a set of professional analytics, charting as well as advanced tools for volume analysis and options trading. During this year, developers made connections to several forex brokers, as well as popular crypto exchanges.
Here is the detailed guide that shows how to connect Quantower platform to IQFeed.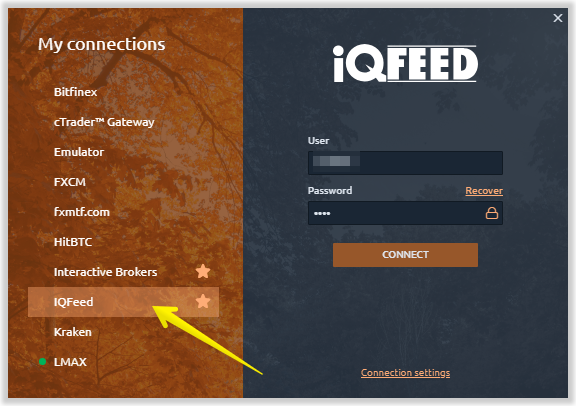 About Quantower.
Quantower is a multi-asset, broker-neutral trading platform that helps to make smart and confident decisions. A wide set of professional features, in addition to the constantly growing list of supported brokers and data providers, turns Quantower into the universal and powerful instrument for various asset classes and trading strategies. Quantower was founded in 2017 by the team of FinTech experts, with headquarters in Dnipro, Ukraine.
Contact Quantower: info@quantower.com
About DTN IQFeed.
Since 1984, DTN has set the standard for providing streaming data services and trading solutions that accurately cover the Agricultural, Energy and Financial marketplace. DTN is a proven industry leader in the delivery of data feeds, high-end analytical software, streaming quote services and customized web content. We bring together time sensitive quotes on equities, options, futures, commodities and fixed income securities, real-time news wires, historical data and more.
Contact DTN IQFeed: sales@iqfeed.net
Comments