Trade with FXCM forex broker via Quantower!

Connection to FXCM is ready to use!
The long-awaited connection to FXCM is already available in the Quantower trading platform! This broker is one of the most popular FOREX brokers all over the world, which offers a wide range of trading instruments, such as 40+ FX pairs, CFDs on commodities, indices, as well as the main cryptocurrencies.
Connect your accounts through the Quantower platform and trade directly from the chart or through Order Entry and FX Cell panels. In addition, for a comprehensive analysis, use the advanced platform functionality — TPO Profile Chart, Symbol Overlays, various chart types like Renko, Kagi, P&F, Range bars, Heikin Ashi.
Follow our step-by-step connection guide and start trading through FXCM from Quantower platform.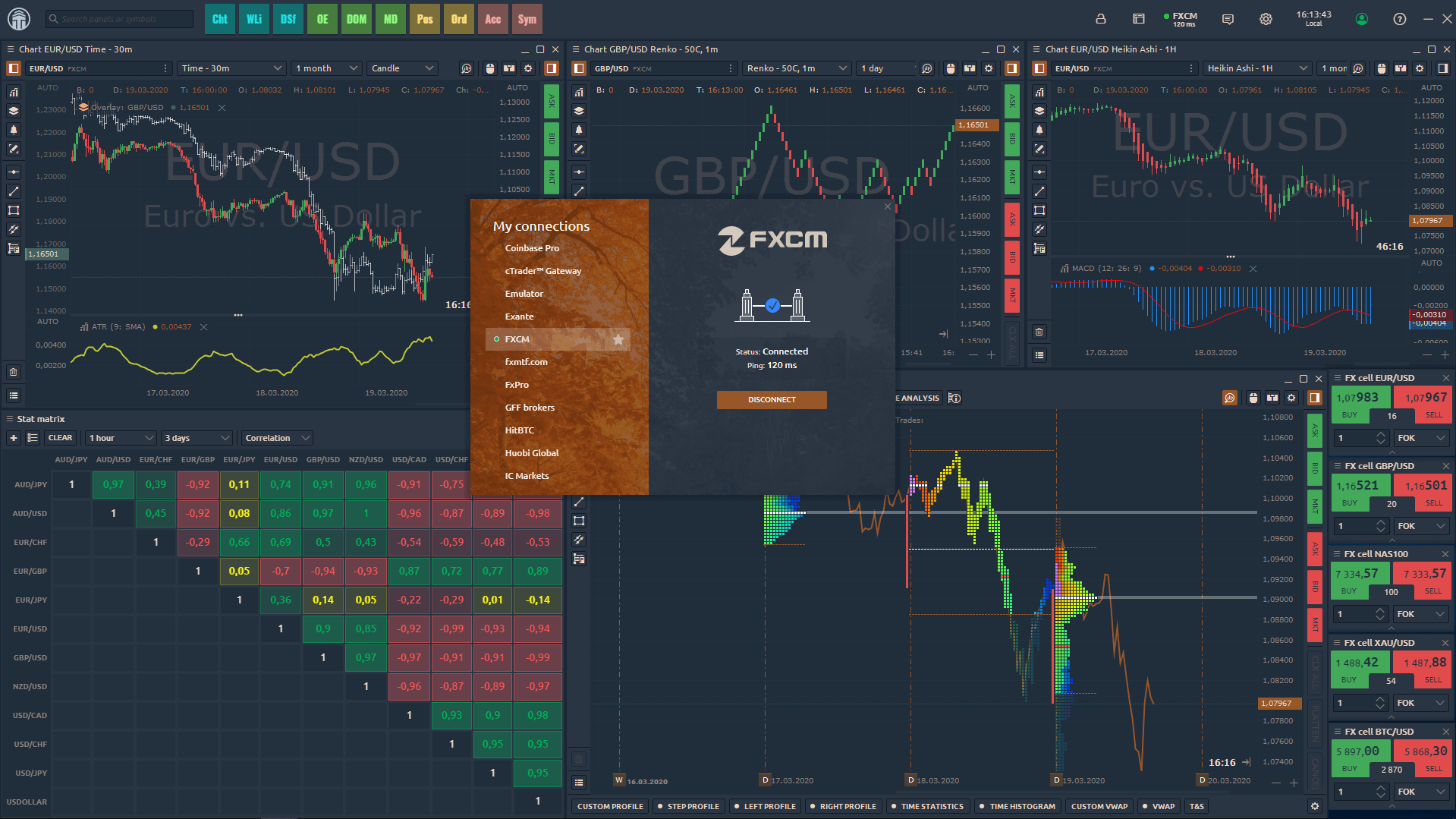 2 new improvements for Alpaca connection — OAuth authorization and Bracket Orders
OAuth authorization
In early February, Alpaca Markets added support of OAuth authorization, which ensures the security and privacy of users when connecting. This protocol allows users to authorize without disclosing API & Secret Keys to 3rd-party platforms.
How does it look? Each time you connect to Alpaca Markets, a browser window will appear with authorization to your personal account via email and password. Quantower does not have access to these login credentials and doesn't save them on its side.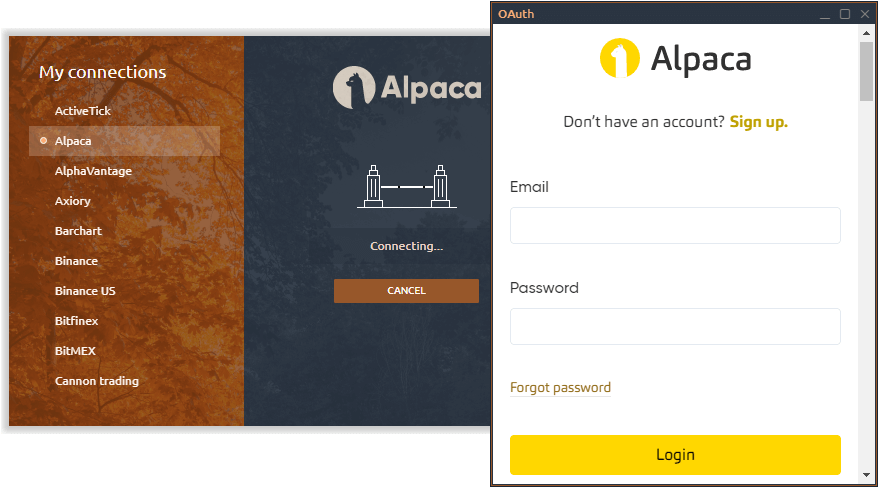 Bracket Orders
In addition to OAuth authorization, Alpaca Market broker added Bracket Order. It's an advanced order type that allows cutting losses and simplify the trading process. The order itself contains 3 orders embedded in it:
Limit Order or main order
Take Profit limit order
Stop Loss order
When a Bracket Order is placed, the system will first execute the Limit order. Until the Limit Order is triggered the 'Take Profit Order' and 'Stop-Loss order' does not get activated. If the main order is executed, the system will wait for the conditions for exit from the position to be fulfilled. When the condition is met (stop loss or take profit), the position will close and the other bracket leg will be canceled.
Multiple custom trading sessions
Trading activity and volatility can vary for each trading session. And if you need to analyze the distribution of trading volume for different sessions, it is better to use Custom Trade Session.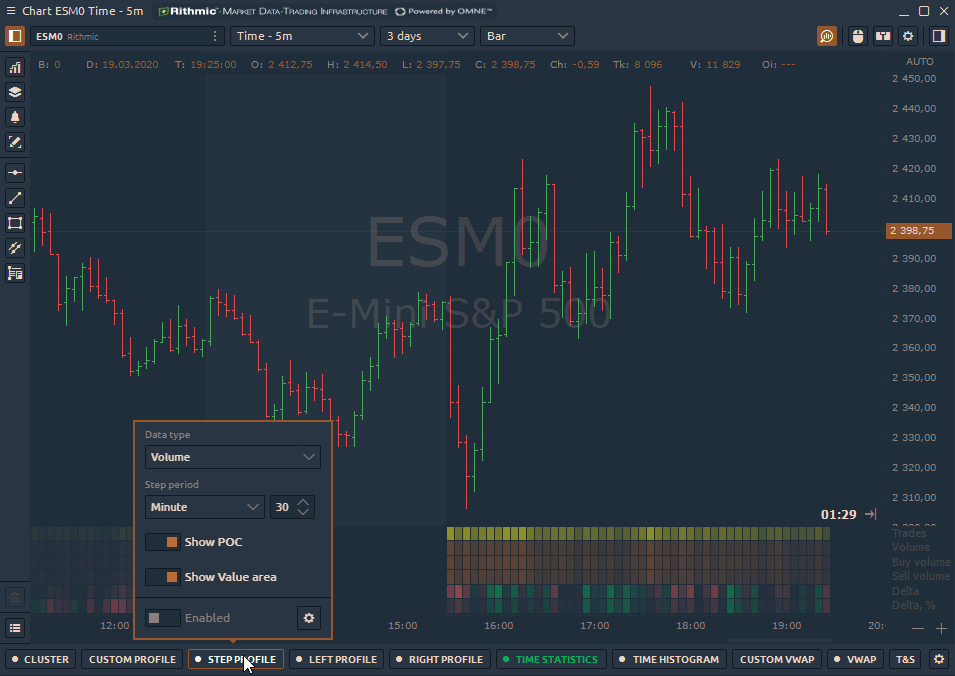 In the chart settings, set the time range for one or several trading sessions and inactive areas will be darkened on the chart. All volume analysis tools, including Volume Profiles, Clusters, VWAP, on this chart will calculate the volume data only for the active (specified) range.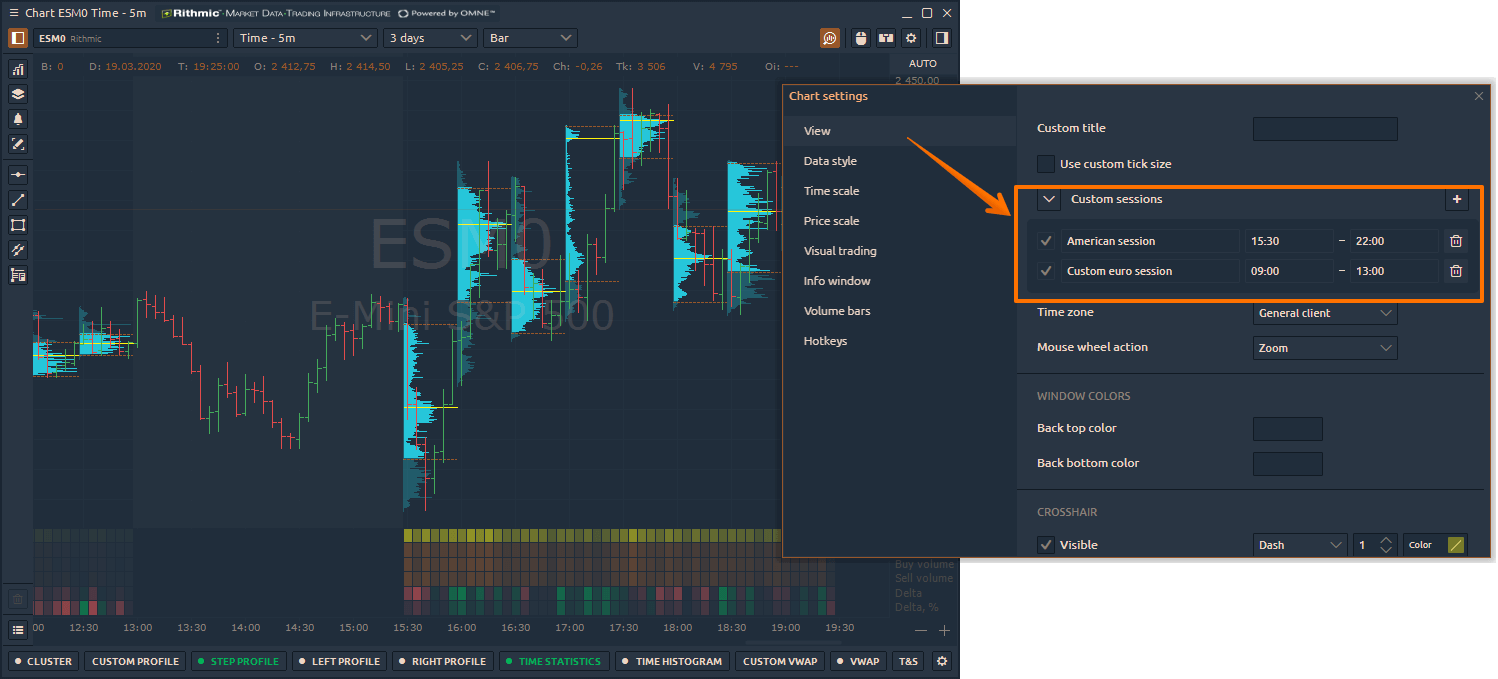 Custom trade sessions are available for next panels: Chart, TPO Chart, DOM Trader, DOM Surface
Improved the management of lists in the Watchlist panel
Watchlist panel allows you to create lists of symbols, save and switch between them in a couple of clicks. In the latest version, we improved the list management mechanism by adding two options:
Add to Watchlist option allows you to add a previously saved list to the current list of instruments
Replace Watchlist option clears the current list and adds the previously saved list to the panel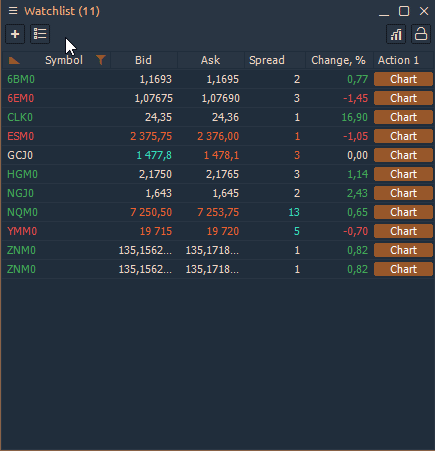 Connection to Intrinio
One more integration in our connection list! Intrinio is a data feed that provides historical and real-time pricing data on Stocks, ETFs, Forex and various economic and macro indicators. The full list of provided data, as well as the subscription price, can be found on their official website.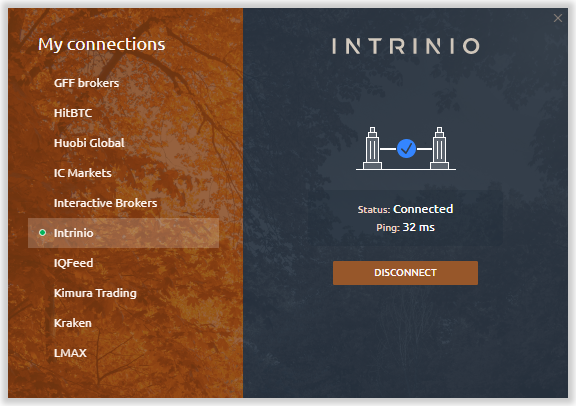 Now, what are you waiting for? Update the platform or download the latest version, and let us know what you think about new features!
Comments