New brokers, indicators & improvements: massive update with great changes

The new update of Quantower is ready for download and use! Without an introductory word let's get to the point.
What's new in this version?
Added two forex brokers — FxPro, TopFX
In the previous release, we added cTrader API 2.0 connection, which has a huge advantage over the first version. The most important of them is that there is no limit on requests for historical data. This means that the connection to cTrader has become really easy to use. :) For more information about other changes in API 2.0, see our article "Connection to cTrader API 2.0 is ready to use".
In this update we have added two Forex brokers — FxPro and TopFX — both brokers use cTrader technology. If you have an account with these brokers and has an account with cTrader, you can easily trade through our platform. To do this, log in via cTrader ID and confirm your connection to our platform. Seems complicated, but in fact it's simple! Follow our instructions on creating and connecting a new account (or existing) with FxPro.
8 new technical indicators
At the request of our customers, we added a list of new technical indicators:
Donchian Channel
High/Low indicator
Super Trend indicator
Ichimoku indicator
Pivot Points
Stochastic momentum index
Guppy Multiple moving averages
Triple Exponential Averages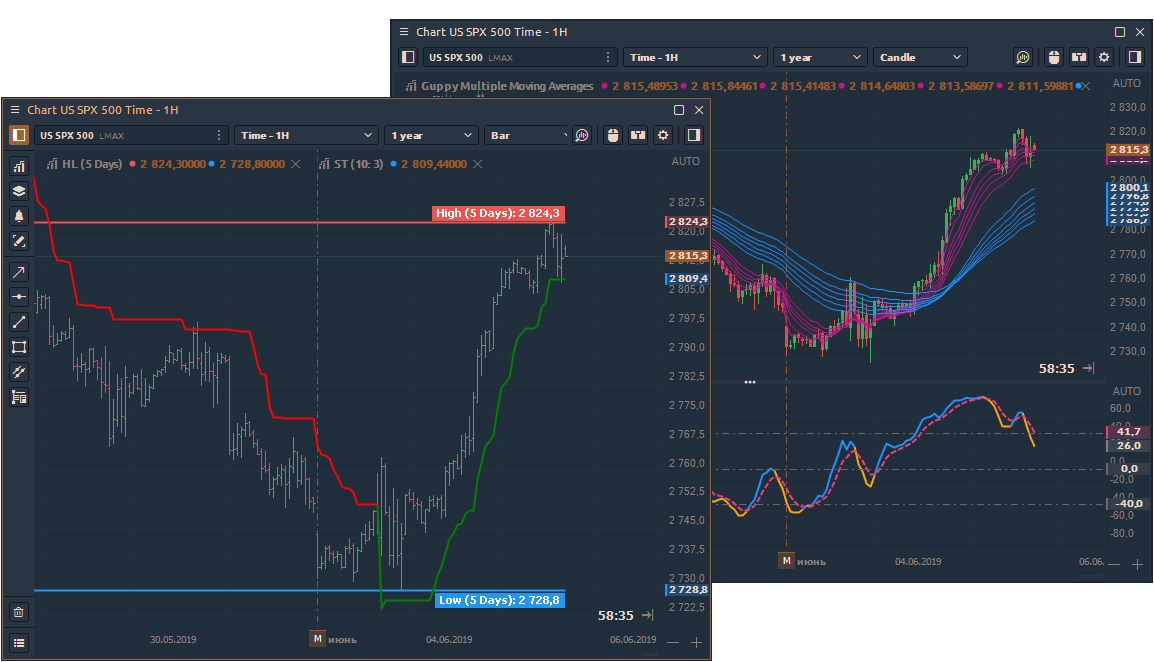 Improvements in Watchlist panel
Creating a new panel from Watchlist
We've added the option to quickly open a new panel for the selected symbol from Watchlist. When you right-click on a symbol, you will see the list with 6 available panels: Chart, Order Flow, Order Entry (or Crypto Order Entry), Market Depth, DOM Trader, Time & Sales.
Manual sorting of the list of instruments in Watchlist
After adding symbols to Watchlist, users can sort or filter the list by each column. In this version, we have added drag and drop of individual rows to any location on the list for full customization.
Quick lock of the Watchlist
This option will protect Watchlist from accidental sorting, deletion of columns or cleaning of the whole list after its setting up. Activation and deactivation of this mode are performed by clicking on the "Lock" icon on the Watchlist panel, as well as from the panel's context menu.
Search news in the RSS panel
Navigation in the RSS panel has become easier by the search mechanism for news on the required company or a specific event. Enter the company name in the search field and all related news will be filtered.
Improved Symbol Lookup Search Engine
For searching a trading instrument in the Symbol Lookup, you can now enter not only the ticker but also the name and description of the asset. This simplifies the search in cases if you do not know the exact ticker of the trading instrument.
The system searches for both one word and a group of words in any order separated by a space.
Comments