Quantower participates in Binance Broker Program. How to get all premium features for free?

Based on the successful experience with FTX exchange we decided to expand the list of exclusive partners that provide free premium use of Quantower. Recently we've joined Binance Broker Program, so beginning from February 2, 2021 any Binance trader can use Quantower Premium features for free. 
How to get a Full License of Quantower for free with Binance?
First, you need to register a new account on Binance exchange, that wouldn't be connected with any referral previously. In order to do this, please follow the https://accounts.binance.com/en/register link and fill in the registration form. 
NOTE:
- New Binance trading account must be created no earlier than February 1, 2021, without referral links.
- If you already have a trading account, you can create a new account, transfer money there from your old account and use the platform for free.
To prevent you from accidentally pulling up a referral code when registering a new account, we recommend clearing Referral ID cookies.
Connect with your API Keys in Quantower platform
Launch Quantower platform and open Connections Manager. Select Binance Futures, Binance Spot, or Binance Margin in the list and enter your API Key and Secret Key for TRADING mode.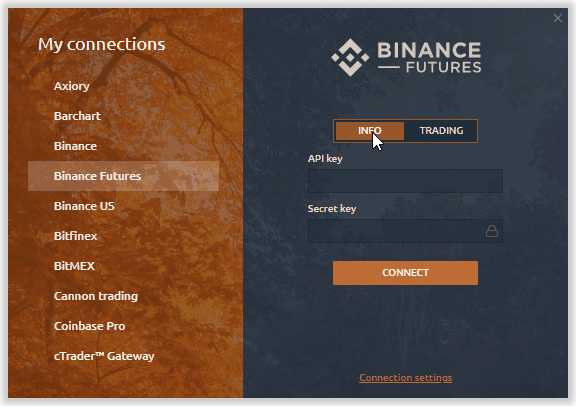 Check that your account has a Full license in Quantower
When all these steps are accomplished you can start using all professional trading and analysis features for free. To make sure that you have made everything the right way, you can check whether the "Full license" parameter in your Account info panel has an "Enabled" value.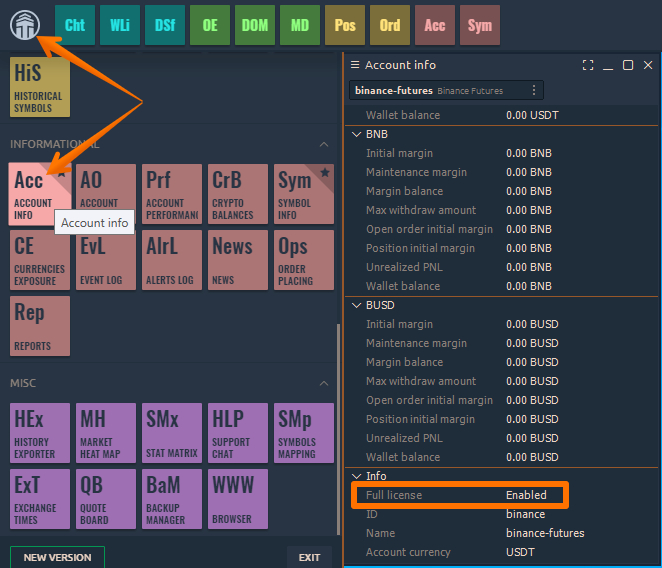 Worth mentioning that the Quantower trading platform proposes much more functionalities than the usual web client application, such as:
Professional charting functionality including various chart types (Renko, Heikin Ashi, Kagi, Range bars), set of indicators, multiple symbols overlaying, and visual mouse/keyboard trading right from the chart;
Volume analysis tools, for deeper inspection of the symbol's price and understanding, why does it change;
DOM Surface functionality, for a detailed view of the market participants, influencing the price change;
DOM Trading panel for quick and accurate order placement and management.
and more...
We are always open to your ideas and feedback. If you wish to see your favorite vendor in the "Free premium" list please share this news with them. Let's make online trading easier.
Comments